The new fleet is overseen and controlled by a technology suite that includes geo-fencing, GPS tracking and live alerts that are integrated into the company's systems providing management teams with automated activity alerts, enabling informed decisions and deliver operational efficiencies.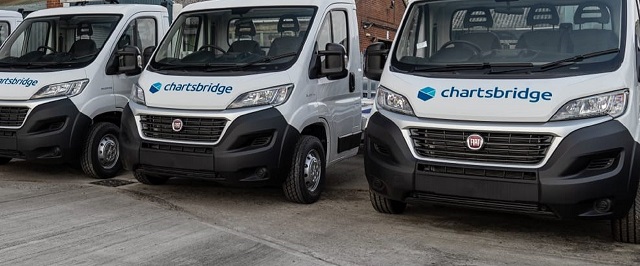 Real-time smart routing
With real-time smart routing the new fleet promises to deliver operating efficiencies by optimising productivity to enhance collection rates whilst reducing the company's carbon footprint.
Reduced carbon footprint
Automated route planning will allow Chartsbridge to reduce fuel consumption across the fleet by making sure drivers take the most efficient routes between visits.

Enhanced audit
Our fleet vehicle audit reports provide access to live and historical data enhancing audit and evidencing capabilities.

Maintaining integrity
Our commitment and investment provide our clients with the comfort that their brand integrity and reputation are protected, minimising risk and delivering a high-quality customer experience.

John Ingram, founder of Chartsbridge, commented "We have worked hard to launch a business that brings first-to-market innovations across all of our activities, whilst simultaneously delivering on our social and environmental responsibilities. We are thrilled to launch a new tech-enabled fleet that combines improved accountability with enhanced operational efficiencies and a reduced carbon footprint".


Release date: 12 February 2020