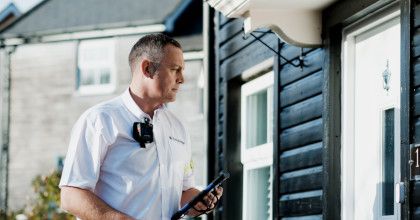 Improving cure-rates in later stage arrears cases to reduce terminations, avoiding repossession where customer/client parameters allow, or where a customer may be unable to maintain the agreement, facilitating a speedier solution to asset recovery and therefore asset sale reducing financial exposure.
Key aims and objectives
Significantly improve customer engagement
Enrich data ensuring capture of updated details, employment and affordability
Improve cure rates and rehabilitation rates
Fewer terminated agreements
Reduce impairment and improve profit aligned with good outcomes
Best customer outcomes
We know that what drives motor finance lenders to succeed is an understanding that the best outcome for them is aligned to the best outcome for their customers.
Agreements that end by default or early termination do not achieve the most financially desirable outcome for lenders and, in many cases, their customers. Defaulted accounts, especially if they do not show as cured on a customer's credit file, will also normally result in short, medium and longer-term adverse financial consequences for customers.
Pro-active customer engagement
A common challenge when assisting customers in financial difficulty is in achieving pro-active engagement, allowing lenders to assist those customers through short-medium term challenges without unnecessarily defaulting or terminating agreements.
Multi-channel contact
Our solutions assist lenders in maintaining customer engagement during the later stages of arrears experiences.
White labelled or disclosed multi-channel contact centre expertise can either compliment, champion-challenge existing processes, or provide a complete outsourced solution
Utilising dialler, two-way-SMS, email, mail, customer portal and web-chat channels
API integration between our own state-of-the-art internal systems or working directly from a lender's own cloud-hosted platform
Blended resourcing solutions enabling flexibility of seats to deal with peaks and troughs in account activity throughout monthly, seasonal or yearly peaks, or dedicated ring-fenced resources adapted to an individual lender's requirements
National field force
Our reconnection service allows lenders to use our nationwide field services to engage with customers and attempt to rehabilitate defaulted accounts. The service facilitates engagement with lenders in cases where customers have not responded to internal collections activity, providing customers with payment options to overcome short-term or unforeseen financial difficulties.
Rehabilitating delinquent accounts
Subject to affordability assessments, this type of customer engagement enables both parties to avoid termination of defaulted accounts in favour of reaching mutually acceptable short or medium-term payment arrangements to rehabilitate delinquent accounts.
Identifying changing circumstances
Although our primary aim in customer reconnection cases is to cure or rehabilitate accounts to agreement terms, we recognise that this will not always be possible. Often due to a change of circumstances, there will be instances where customers no longer have the ability to maintain the financial obligations of the agreement, and where the best mutual outcome is for an asset to be recovered. We work collaboratively with lenders and their customers to facilitate the best outcomes.
Data analytics and insight
Our added-value data analytics and insight services additionally enrich and update key contact/employment/personal circumstances data to aid future customer engagement.