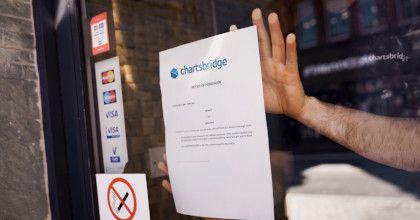 Should a commercial tenant be in breach of covenant, such as having failed to pay rent, a landlord may instruct enforcement agents to forfeit the lease on their behalf. The forfeiture of a commercial lease allows a landlord to repossess commercial property under Common Law. Chartsbridge's dedicated team of commercial lease experts provide a quick and efficient alternative to obtaining a court order for taking possession of commercial premises.
Looking to repossess your commercial property?
Our Commercial Lease Eviction Service includes:
Same day nationwide service
Drafting of repossession and bailee notices including the drafting and issuing of a TORTS notice (Interference with Goods Act 1977) if required
The appointment of an accredited locksmith to change locks and secure the premises
A full digital and photographic inventory of goods provided within 24 hours
A dedicated member of our commercial lease enforcement team on hand throughout the forfeiture process
What are the Steps for the Eviction of a Commercial Tenant?
To effect the forfeiture, our enforcement agents will gain peaceable entry to the premises when the property is empty and re-secure by changing the locks. Forfeiture is normally conducted outside of the tenant's trading hours, usually early in the morning.
Upon entry, our experienced enforcement agents will ensure that relevant notices are placed in prominent positions such as external doors and windows notifying the tenants and any sub-tenants that lease forfeiture has been effected and that their continued use of the property is no longer permitted. Where required, a photographic inventory will be completed and meter readings noted if visible. Upon completion, our enforcement agents will either deliver the new keys locally in person, or send them to the instructed address by registered post. Prior notice does not have to be given to the tenant.
Landlords should be careful not to do anything that might cause them to waive their right to forfeit. Acts of waiver include demanding or accepting rent payments or when the landlord has already attempted to collect arrears using Commercial Rent Arrears Recovery (CRAR). The landlord will only then regain the right to forfeit if the tenant goes into arrears on a subsequent occasion. In addition, the landlord is not permitted to seize the tenant's stock and/or other assets, which is an alternative remedy available to landlords opting to use CRAR.
Why instruct Chartsbridge for commercial lease evictions?
Same day nationwide service
Certificated Enforcement Agents
Locksmith service included
FAQs about Commercial Lease Forfeiture
---
£375 for the first hour on-site followed by £120 for each additional hour spent on-site thereafter (plus VAT). Possession is generally obtained within the first hour dependent upon size of property
Variable locksmith fees dependant on the type and number of locks in situ
£100 (plus vat) for drafting of TORTS notice if required
Commercial Lease Enforcement Experts
For further information on how Chartsbridge can assist you with eviction of a commercial tenant, please contact our London office on 020 7788 8484 or instruct us online