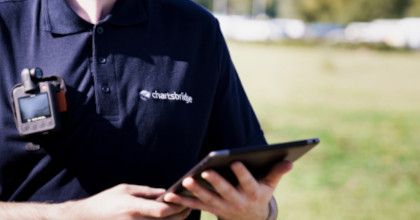 Are travellers encamped on your land without permission? At Chartsbridge we understand that this can often be a difficult and stressful situation for a landowner - not knowing how to get travellers moved in a safe and lawful manner.
Our expert team provide a 24/7 traveller eviction service with a 100% success rate, nationwide.
Need help with the removal of travellers?
Eviction of travellers under Common Law
This is most commonly preferred method of how to evict travellers from private land. Under Common Law, a landowner has rights to evict any illegal occupier(s)/encampments, without lengthy implications involving a Court Order.
By instructing Chartsbridge bailiffs (all certified enforcement agents), you can fast-track the traveller eviction process, as follows:
Why choose Chartsbridge to evict travellers?
Certificated Enforcement Agents
Same day eviction service
No Court Order required
Nationwide service
Fair, ethical outcomes
Chartsbridge will handle and serve an eviction notice for travellers on site, notifying them of a time by which they must vacate. This is usually executed within 24 hours.

A risk assessment of the site is also carried out on the first visit, in the eventuality that a forced eviction is required.

If travellers are still present on the site following service of the eviction notice, Chartsbridge bailiffs will carry out an eviction to repossess the land under Common Law.
Eviction of travellers using a Writ of Possession
Often a preferred method of how to evict travellers from public land, another option for landowners is to enforce a Writ of Possession.
Although a longer process, once a Writ is issued, it can be enforced immediately. By pursuing this route, enforcement is carried out by High Court Enforcement Officers with assistance from the Police. A fast track option does exist to speed up this legal process.
This method of eviction is typically used to evict travellers in scenarios where compliance with an eviction notice is unlikely and that violence/physical resistance is a possibility.
FAQs about traveller evictions
---
There are two methods for how to evict travellers from private land; either through Common Law or by obtaining a Possession Order and then enforcing it using a Writ of Possession. Whilst obtaining a Writ of Possession can be a lengthier process, the eviction of travellers from private land will be carried out under a court order by a team of High Court Enforcement Officers who have a wealth of experience and expertise in the conduct of evictions.
Whichever route you choose, Chartsbridge will be happy to assist. Contact our team to discuss your requirements today.
If travellers have set up an unauthorised encampment on council-owned land, the council must obtain a Court Order for possession of that land. They can then transfer the Order to the High Court for enforcement by High Court Enforcement Officers using a Writ of Possession.
If you need to evict travellers on behalf of a local authority, contact Chartsbridge today. Our team will ensure a safe and ethical eviction is carried out by fully licensed and insured High Court Enforcement Officers.
This will depend on the legal process that is chosen, usually dictated by whether the land is privately owned or not. Actions under Common Law for the possession of private land can be taken immediately although we would usually advise giving the trespassers sufficient notice (usually 24 hours) to allow them time to vacate.
The process of obtaining a Possession Order and enforcing by a Writ of Possession can take longer, although a fast track option exists to speed up the legal process.
Let Chartsbridge handle the entire traveller eviction process
By choosing Chartsbridge to manage a traveller eviction, you can trust our team to conduct a safe and professional eviction, without you having unnecessary involvement or confrontation. From the serving of the eviction notice, to repossession of the land by experienced and fully insured enforcement agents, your case is in reliable hands.
For further information on how Chartsbridge can assist you with eviction of trespassers or any unauthorised encampments, please contact our London office on 020 7788 8484 or instruct us online using the form below: