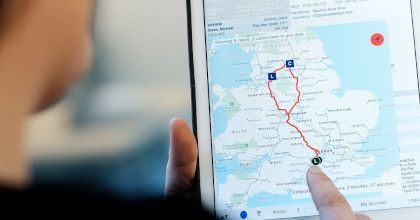 Geofenced locations, live alerts and real time tracking are integrated into our systems provide our management teams with automated activity alarms (operating times, locations, vehicle speed) enabling us to make informed decisions and deliver operational efficiencies. Our GPS vehicle tracking system means that our operational personnel can monitor the exact location of our vehicles in real-time.

Smart routing
Real-time smart fleet routing delivers operating efficiencies and optimised productivity enhancing collection rates. Our fleet vehicle audit reports provide access to live and historical data enhancing audit and evidencing capabilities.
Monitoring activity
Our tracking capabilities enable us to monitor the whereabouts of our vehicles and view historical data for all vehicle journeys giving us a complete overview of productivity
Driver behaviour
Our software reports on how our fleet vehicles are being driven, including speeding, time spent driving and route planning.
Protecting brand integrity
Our commitment and investment provide our clients with the comfort that their brand integrity and reputation are protected, minimising risk and delivering a high-quality customer experience.
Environmental benefits
With increasing fuel costs making up a large percentage of the running costs for any business, our vehicle tracking system assists us in reducing fuel usage to increase our operational efficiencies and reduce our carbon footprint.