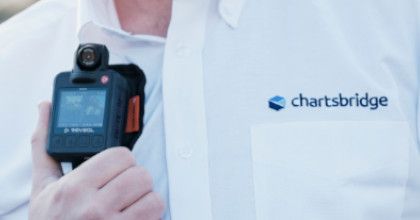 Chartsbridge has implemented the award-winning, front-facing Reveal D-Series body worn video cameras across our field personnel.

Setting the benchmark
We are proud to have set the industry benchmark by becoming the first business in our sector to roll-out the new front-facing body worn video cameras technology solution across our field personnel.
This smart, secure and cutting-edge solution includes automated face-blurring technology to recognise and blur the faces of bystanders inadvertently captured in video footage, ensuring their privacy and anonymity.
Improving industry standards
We strive to earn the trust of all stakeholders in the collections and enforcement process. In July 2019, the government first announced its intention make body worn video cameras compulsory for the activities of High Court Enforcement Agents and Certificated Enforcement Agents. It comes after recent moves by ministers to improve industry standards and better protect vulnerable consumers. Justice Minister Paul Maynard said "body-worn cameras will provide greater security for all involved - not least consumers who are often vulnerable".
Although the government's intention to make the use of body-worn cameras mandatory will not capture FCA-regulated field activities, as best practice innovators we strive to earn the trust of all stakeholders in the collections and enforcement process.
Enhanced accountability
The implementation of body worn video during the conduct of enforcement activities has been proven to successfully achieve a 90% reduction in complaints. High-quality video and audio footage of an incident evidence exactly what happened, when, and who was there.
Best practice innovators
Our early-investment in bring this cutting-edge technology into the private sector collection and enforcement goes one step further to evidence our commitment to raising industry standards.